Consumer Reports: Millions of Americans Lack Fast Internet Service
Consumer Reports: Millions of Americans Lack Fast Internet Service
Submitted on August 6, 2021
Friday, August 6, 2021
Weekly Digest
Consumer Reports: Millions of Americans Lack Fast Internet Service
 You're reading the Benton Institute for Broadband & Society's Weekly Digest, a recap of the biggest (or most overlooked) broadband stories of the week. The digest is delivered via e-mail each Friday.
This week, guest author James K. Willcox of Consumer Reports guides us through the results of a recent survey on home broadband service.
Round-Up for the Week of August 2-6, 2021
Millions of Americans struggle to pay for fast internet service, or find that it's not available where they live, a new Consumer Reports survey shows.
The nationally representative survey of 2,565 adults (PDF), conducted in June of this year, adds urgency to debates over broadband infrastructure and competition, according to consumer advocates.
Approximately 3 out of 4 Americans say they have broadband, or high-speed internet, service in their households. But 1 in 20 says they rely on slow DSL connections or a dial-up service, 15 percent use their cellphone plans to access the internet, and 3 percent of Americans say they have no internet access at all in their homes. 
Nearly a third of those who lack broadband say it's because it costs too much, while about a quarter of those who do have it say they find it difficult to afford.
"This survey reinforces what we already suspected: that getting online for millions of Americans is too costly, and in many cases the service is inadequate," says Jonathan Schwantes, senior policy counsel at Consumer Reports. "As the pandemic continues, being able to connect to high-speed internet makes all the difference in the world, whether you are applying to a job or video chatting with family and friends."
There is something consumers can do to help lower the cost, however.
The survey shows that many people have successfully negotiated with their broadband providers to get a better deal in the past 12 months. Nearly half of those who negotiated for better features, such as faster speed, were successful, while 42 percent who bargained for a better price were able to get one.
Struggling to Pay Monthly Bills
Forty-three percent of Americans who have broadband service in their home are using it more now than they were before the pandemic hit, according to the survey, and 16 percent decided to upgrade their plans to meet their growing needs.
Hispanic, Black, and Asian consumers were the most likely to upgrade their existing service. However, the difficulty in affording fast internet service is felt disproportionately among communities of color. Thirty-two percent of Black and 33 percent of Hispanic Americans who have broadband at home say they have some level of trouble paying their bill. That's true for 21 percent of white Americans.
According to the survey, the median monthly broadband bill, including taxes and fees, is about $70. In areas where there's competition, prices are lower. The median monthly price in a market with just one provider is $75, but that figure drops to $68 when consumers have a choice of three providers.
Paying More to Keep Up
People of color were more likely to upgrade their service in response to COVID-19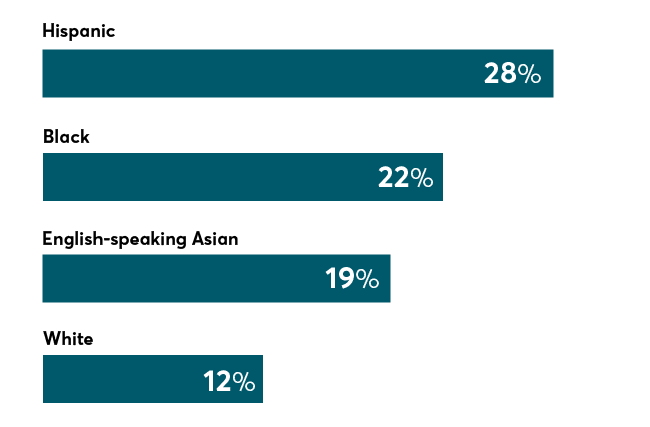 Source: June 2021 Consumer Reports nationally representative survey of 2,565 adult U.S. residents.
Lack of local infrastructure is also a barrier for some Americans, especially those living in rural areas. Of those who don't have broadband internet service, a quarter say it's because it is not available where they live.
The survey shows that more African American households (21 percent) rely on smartphones for at-home internet access than white (14 percent) or Hispanic (15 percent) households. 
To gather more information on internet pricing and access, Consumer Reports is working with a coalition of partner organizations to collect and analyze thousands of internet bills from across the United States. Individuals can participate in the Broadband Together project by taking an internet speed test, sharing a bill, and answering a few questions about your broadband service.
Consumer Reports plans to publish the initial results this fall, in partnership with several other media organizations.
Support for Municipal Broadband
The Consumer Reports survey also gathered information on municipal broadband services, in which a town or city offers its own internet plans to residents, often in partnership with a private company.
These city-run services may provide fast connections to people's homes in neighborhoods where none are available from other internet service providers. They can also introduce competition—and often lower prices—in markets that lack it.
Many of these municipal broadband services are popular with their customers. EPB, in Chattanooga, Tennessee, for example, has periodically showed up at the top of Consumer Reports' telecom ratings for internet providers. 
About 20 states have curtailed or banned such internet services to prevent local governments from competing with private enterprises. Consumer Reports and other advocacy groups have long opposed such restrictions.
Most Americans share that view. Three out of 4 Americans feel that municipal broadband services should be allowed to help ensure that all Americans have equal access to the internet.
According to the survey, the level of support varies with political affiliation but is shared by majorities of Democrats (85 percent), independents (74 percent), and Republicans (63 percent).
---
James K. Willcox has been a tech journalist for more years than he's willing to admit. His specialties at Consumer Reports are TVs, streaming media, audio, and TV and broadband services. In his spare time he builds and plays guitars and bass, rides motorcycles, and likes to sail—hobbies he's not yet figured out how to safely combine.
This article, reprinted here with permission, originally appeared on Consumer Reports at www.consumerreports.org/broadband/millions-of-americans-lack-fast-internet-service-cr-survey-a1099956385
Quick Bits
Weekend Reads (resist tl;dr)
ICYMI from Benton
Upcoming Events
Aug 11—Tribal Broadband Connectivity Program Webinar (NTIA)
Aug 12—Tribal Broadband Connectivity Program Webinar (NTIA)
Aug 12—The Impact Summit (Impact Labs)
Aug 12—Broadband Data Task Force Webinar On Proposals For Broadband DATA Act Mobile Challenge, Verification, And Crowdsource Technical Requirements (FCC)
Aug 18—Connecting Minority Communities Pilot Program Webinar (NTIA)
Aug 19—Connecting Minority Communities Pilot Program Webinar (NTIA)
Aug 19—Task Force for Reviewing the Connectivity and Technology Needs of Precision Agriculture in the United States (FCC)
Aug 23—Tribal Broadband Connectivity Program Webinar (NTIA)
Aug 24—Tribal Broadband Connectivity Program Webinar (NTIA)
The Benton Institute for Broadband & Society is a non-profit organization dedicated to ensuring that all people in the U.S. have access to competitive, High-Performance Broadband regardless of where they live or who they are. We believe communication policy - rooted in the values of access, equity, and diversity - has the power to deliver new opportunities and strengthen communities.
---
© Benton Institute for Broadband & Society 2021. Redistribution of this email publication - both internally and externally - is encouraged if it includes this copyright statement.
---
For subscribe/unsubscribe info, please email headlinesATbentonDOTorg
---
---